Quick Links
---
Trims and Pricing
640i Coupe

(Starting MSRP $78,595)

640i xDrive Coupe

(Starting MSRP $81,595)

650i Coupe

(Starting MSRP $89,995)

650i xDrive Coupe

(Starting MSRP $92,995)
640i Gran Coupe

(Starting MSRP $80,795)

640i xDrive Gran Coupe

(Starting MSRP $83,795)

650i Gran Coupe

(Starting MSRP $92,195)

650i xDrive Gran Coupe

(Starting $95,195)
640i Convertible

(Starting MSRP $86,095)

640i xDrive Convertible

(Starting MSRP $89,095)

650i Convertible

(Starting MSRP $97,495)

650i xDrive Convertible

(Starting MSRP $100,495)
ALPINA B6 xDrive Gran Coupe

(Starting MSRP $123,495)

---
Powertrains
The 2016 BMW 6 Series trims are powered by one of the two available powertrain options.
640i: Advanced innovations like Valvetronic technology help this unique 3.0-liter TwinPower Turbo 6-cylinder engine "breathe" better, which increases fuel economy and performance. Proof of its power is in the numbers: it develops maximum output of 315 hp at 5800 rpm, redlining at an amazing 6000 rpm; while peak torque of 330 lb-ft kicks in at 1400 rpm and continues to push you back in your seat all the way to 4500 rpm. (Available in: 640i Coupe, 640i xDrive Coupe, 640i Gran Coupe, 640i xDrive Gran Coupe, 640i Convertible, 640i xDrive Convertible)
650i: This unique "reverse-flow" 4.4-liter, TwinPower Turbo V-8 has been updated with Valvetronic, BMW's throttle-less intake system. It works in concert with High Precision Direct Injection and twin turbochargers, nestled on top of the engine, to deliver 445 hp and 480 lb-ft of torque. (Available in: 650i Coupe, 650i xDrive Coupe, 650i Gran Coupe, 650i xDrive Gran Coupe, 650i Convertible, 650i xDrive Convertible, ALPINA B6 Gran Coupe)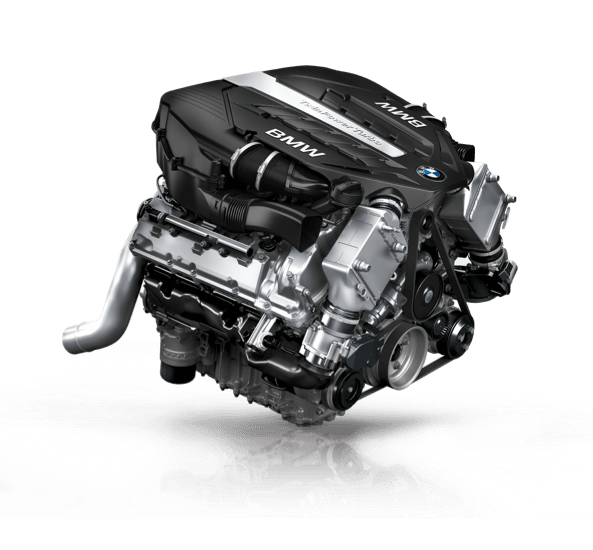 ---
Performance
An Intelligent Chassis: Advanced BMW Engineering at Work.
Active Roll Stabilization: On the road, a vehicle's body tends to roll in corners, which can affect handling. Performance-elevating Active Roll Stabilization, part of Adaptive Drive, incorporates two-piece anti-roll bars to generate stronger resistance to body roll, keeping the vehicle more level and providing maximum stability and agility.
Integral Active Steering: Integral Active Steering enhances driving dynamics, depending on the speed and steering angle. At lower speeds, the power steering improves maneuverability and agility for easier parking and cornering. At higher speeds, the steering becomes less direct, which helps to boost driving comfort.
xDrive, BMW's Intelligent All-Wheel Drive System: Working in tandem with Dynamic Stability Control, BMW's xDrive all-wheel drive system, monitors the road's conditions. Once it senses excess slip, it smartly sends power to the wheel with the surest footing, improving traction and delivering neutral, responsive handling.

---
Comfort and Convenience
BMW features unparalleled amenities and drive comfort :
Stand out from the crowd in the comfort of the driver's seat.Available BMW Individual composition allows you to add a distinct personal touch to the interior and exterior design—giving you the freedom to customize your 6 Series down to the finest detail.
A standard wireless charging pocket keeps your phone fully charged, without the hassle of tangled wires and hard-to-find plugs, while built-in Wi-Fi provides Internet access on the go, for everything from finding your next destination to streaming endless entertainment.
Introducing the all-new iDrive 5.0 system with BMW ConnectedDrive.With wireless integration of apps like Spotify and Pandora, enhanced graphics, a new iDrive controller, and a navigation system that learns your frequently driven routes, iDrive 5.0 doesn't just keep you in touch, it puts the world effortlessly at your fingertips.

---
Reviews
Drivers from all over the World have found the 2016 BMW 6 Series to be a great fit for their needs, we're sure that it will fit yours as well. Take a look below at what the experts are saying about the potential behind the BMW 6 Series to see how it can make an impact in your life too.
"As a grand tourer, the 2016 6 Series is a great choice, offering strong acceleration and a good balance of ride and handling for devouring highway miles. Even though it's agile for its size, in a 2013 M6 First Test, we said that the car feels out of its element when driven through a winding road, further asserting its position as a touring car rather than an all-out sports car. Additionally, it isn't as communicative as smaller, more nimble sports car due to its curb weight of over two tons.." –MotorTrend
"The 2016 BMW 6-Series ranks 5 out of 10 Luxury Large Cars. Although it doesn't have the most hospitable back seat or the sharpest handling, reviewers agree that the 2016 BMW 6-Series offers generous doses of luxury and power." –Edmunds
"The 6-series is BMW's most exclusive offering, embodying the spirit of elegant grand touring in a most modern fashion. As a coupe or convertible, the 6-series is available with either a 315-hp 3.0-liter inline-six (640i) or 445-hp 4.4-liter V-8 (650i); both engines mate to an eight-speed automatic. Rear-wheel drive is standard, while all-wheel drive is available for all-weather ability. There is also an M Sport package with even more upscale interior and exterior accents for extra bling." –Car and Driver

---
Imagine Yourself in a 2016 BMW 6 Series
The 2016 BMW 6 Series has so much it is just waiting to provide you with, so don't keep waiting around. After getting a special instant quote from our website come visit us at BMW of Tri-Cities at 955 Aaron Drive, Richland, Washington in The Tri-Cities Area or call 509-943-9839 to schedule a time to see the BMW 6 Series in action.